Ac Maintenance Service
AC Maintenance Service Dubai:
What is the maintenance of air conditioning:
To extend service life

The lack of refrigerant gas and dirty heat exchangers greatly reduce the life of the compressor – the main element of the system

Air conditioning works at full capacity

In Middle East regions, like Dubai UAE, air conditioner heat exchangers are quickly polluted, which is why air conditioning blows with cold air.
The lack of refrigerant reduces the power of the system, because of what it will not cope with the cooling of the laid area of ​​the room

Reduce energy overruns

Air conditioning with a lack of refrigerant gas and dirty heat exchangers consumes more electricity than normal air conditioning

Damage Warnings

If you notice in time deviations in the operation of the equipment, you can save parts from failure 
For example expensive compressor when overheating

Smooth operation

Breakdowns occur at the most inopportune moment, it is better to eliminate them during preventive ac maintenance than in the heat, and wait for the arrival of the Ac Maintenance Companies
The durability of the air conditioner depends on :
conditions in which the air conditioner works
Installation quality
air conditioner manufacturer
Ac service
After-sales service minimizes the negative consequences of poor installation quality and poor environmental conditions.
How often do I need Ac Maintenance Service in Dubai?
This is influenced by the following factors:
clean air
how often do you use air conditioning
required degree of reliability ( cooling room or expensive equipment ) 
It all depends on how often the air conditioner is used and in what conditions.
But even if the air conditioner is clean in appearance and properly cools the room, this does not mean that everything is fine with it.
Only when diagnosing and measuring parameters, it is possible to determine deviations in its work and eliminate them prematurely, not allowing breakdowns.
What is included in the maintenance of air conditioning in Dubai?
Outdoor unit:
high pressure washing (Karcher)
check of working pressure and, if necessary, Refueling Refrigerant Gas
compressor current check
compressor insulation resistance check
wire pulling on the terminal block
detection and elimination of extraneous noise and vibrations
four-way valve check
checking the condition of the filters in the refrigerant circuit (if any)
Indoor unit:
heat exchanger (evaporator) cleaning
flushing the drainage system
fan cleaning
wire pulling on the terminal block
In the entire system:
freon/refrigerant gas leak detection
voltage measurement
tests on all operating modes
control panel check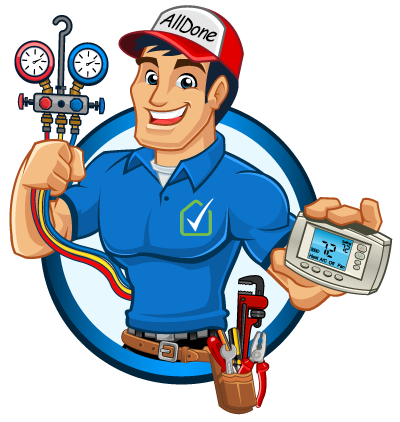 All Done Ac Maintenance Co LLC
,
Indigo Tower - Cluster D
,
Jumeirah Lakes Tower
,
Dubai
-
39322
,
Telephone No.0502977603
Best AC Maintenance, Repair, Service and Installation Service in Dubai. Specialists in Air Conditioning Repair, Installation and Service. Professional AC Repair & Servicing, Fast, Efficient Fault Finding. Professional, Well Equipped and Hygienic Duct Cleaning Services. We are Dealers, Distributors & Suppliers of O General AC, Super General AC, Mitsubishi AC, Gree AC, LG Air Conditioners in Dubai and also provides Air conditioning services in Dubai from installation and maintenance to emergency air conditioning repairs. Air Conditioning Free Inspection, Fault Diagnosis and Maintenance Solutions. All Type of Air-Conditioning Services & Maintenance under AMC Contract. All Done Ac Maintenance Co. LLC is committed to achieving excellence and we are your go to company for all of your HVAC needs in Dubai.
https://www.ac-maintenance-dubai.com/wp-content/uploads/2022/02/Ac-Maintenance-Dubai-All-Done.png
0
0
admin
https://www.ac-maintenance-dubai.com/wp-content/uploads/2022/02/Ac-Maintenance-Dubai-All-Done.png
admin
2019-05-27 17:51:03
2019-05-28 05:33:27
Ac Maintenance Service